Frequently Asked Question
How do I edit or modify a Content Navigation page?
Last Updated 2 years ago
The edit tool allows instructors or assistants with appropriate privileges to modify pages in Content Navigation.
Step 1: Click the edit icon

View the page you want to modify, and click the Edit icon that looks like a pencil from the editing toolbar. This will open the Edit Content page.
Step 2: Edit the Body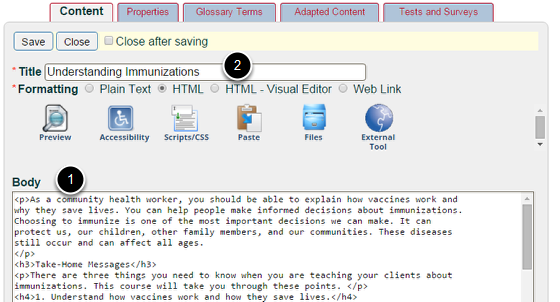 You can edit the HTML code for the page directly in the Body area (1). Or, you can click the HTML - Visual Editor (2) button to to display the page content in an easily readable format.
Step 3: Save

When you're done, click the Save button. Click the checkbox next to Close after saving to return to the viewing page.