Frequently Asked Question
How do I subscribe to forum posts?
Last Updated 3 years ago
When you subscribe to a forum you will be sent email copies of every subsequent post in that forum. You can usually choose whether or not you want to be subscribed to each forum. Administrators cannot subscribe or unsubscribe other users to forum posts.
Step 1: Click the Subscribe link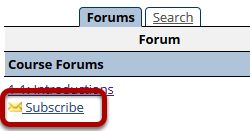 From the Forums page, click the Subscribe link to receive updates of all threads in that forum. To subscribe to individual threads, click to enter a forum and click the Subscribe link under that thread's title.
Step 2: Unsubscribe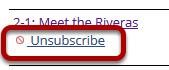 After subscribing, the link will say Unsubscribe. Click the Unsubscribe link to stop receiving email updates.