Frequently Asked Question
How do I update grades in the Gradebook?
Last Updated 2 years ago
The
External Marks
tool allows instructors or users with Gradebook privileges can download a course list in a CSV format into which grades (or "marks") can be entered manually and then imported back into the Gradebook. It can also be used to export grades from the Gradebook an into a third-party application such as a spreadsheet, or another database.
Step 1: Go to External Marks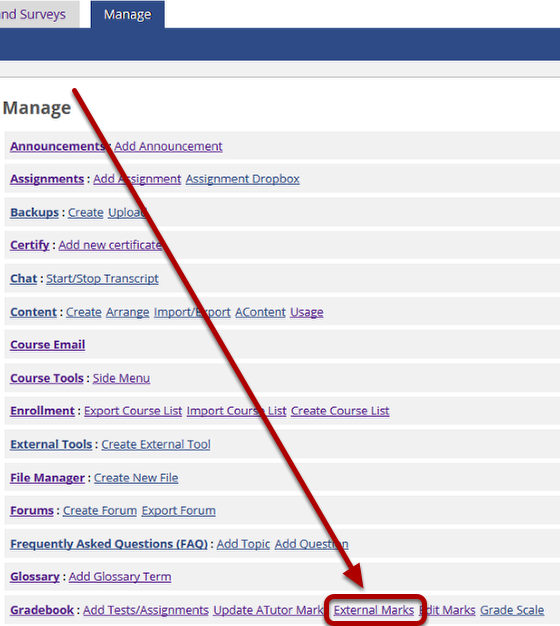 From the Manage tab, go to the Gradebook section and select External Marks.
Step 2: Export CSV file

On the External Marks page in the Export area, choose the assignment or test you want to work with from the What to export drop-down menu (1), and click the Export button (2) to download a course list file to your computer.
Step 3: Update grades

On your computer, update the Grade column with the appropriate grade, and then save the file locally.
Step 4: Import grades

In the Import area, select the assignment or test you want to work with from the Import to drop-down menu (1), and then use the Browse button (2) to choose the grade file you want to reimport into the Gradebook. Click the Import button (3).
Step 5: Review and submit

On the Update List page, review the imported data, and make changes in the Grade column if necessary. Click the Update button to save the grades to the Gradebook.