Frequently Asked Question
How can I edit Forum posts and threads?
Last Updated 3 years ago
Administrators can Edit or Delete posts. The forum toolbar has a few extra tools for administrators.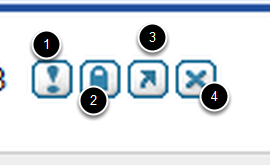 1. Make a thread "sticky"
Click the exclamation point button (1) to make a thread "sticky." Sticky threads are created by instructors or assistants, and remain "stuck" to the top of the listing, even if they haven't had any posts recently. Their purpose is to keep important information visible and accessible at all times.
2. Lock a thread
The padlock button (2) closes the thread to any replies. It makes it read-only.
3. Move a thread
The arrow button (3) lets you move the thread, if it's more relevant to a different forum.
4. Delete a thread
The X button (4) lets you delete the thread and all of its posts.