Frequently Asked Question
How can I schedule when a section in Content Navigation opens?
Last Updated 4 months ago
Pages in Content Navigation can be scheduled to open for students on a specified Release Date. Content can be scheduled for release by specifying date in the future. Specifying a Release Date that has past will release the content immediately. The Release Date of a page affects all of its sub-pages as well, such that a sub-page is released only when the most distant release date of all its parent pages has passed. By default, the Release Date is set as the current date and time.
Step 1: Go to the page and click Edit This Page

To schedule when a module, section or single page within Content Navigation opens, first go to the page and click Edit This Page.
Step 2: Click Properties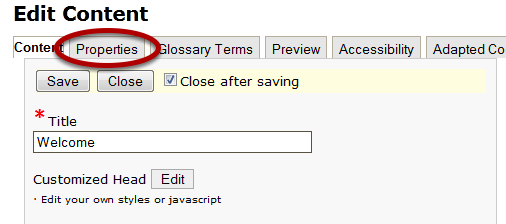 Click the second tab that says Properties.
Step 3: Set the Release Date

Under the section that says Release Date, choose the day and time on a 24-hour-clock on which you want the page to be accessible to students. Any setting for a top-level page applies to all its sub-pages. Click Save to store your changes.